THE COUNTRYSIDE SPECIAL 🇻🇳
The countryside is pretty much poor by western standards, but the people, they are the gold standard in humanity.

N3il5, you can find him on Facebook.
So, what is the Special Experience?
In short, its a Beauty overdose. 😎
A unique experience for people who would like to know more about Vietnam than its tourist hot spots. You will spend most of the time with locals at their homes and be part of their daily routine. From preparing food, after work drinks, the karaoke and much more, it is safe to say closer you can not get.
These specials take you to the heart of the Vietnamese culture.
The Countryside Special is a two day tour to the countryside that is surrounding Haiphong. It includes a bed, family meals served on the floor of course where you can taste the rich local cuisine. Frog, duck blood, fish, pork, beef, pho, all kinds of herbs, vegetables and fruits. Everything of it is locally produced.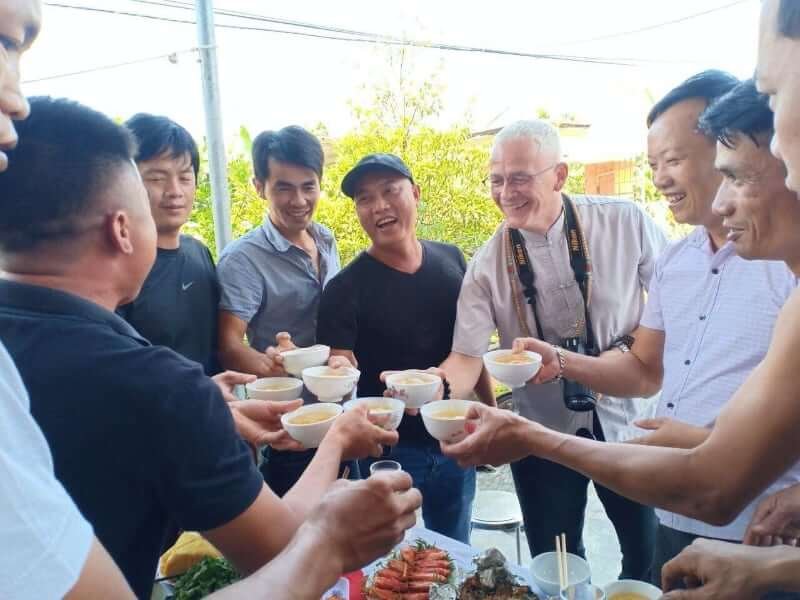 How much does it cost?

30.000.000 VND | 1300 USD | 1150 EUR per Person* for the Special Experience. Extras like transfer to Haiphong etc. are not included. Expensive right? Yeah, but for cheap experiences you'll find a lot of travel providers in Vietnam.

*book now - only limited places available (scroll down to request form)

IMPORTANT ADVICE

This special is not suited for everyone! Don't book if you can't handle limited hygiene standards, a probably uncomfortable bed and locals who invite you for a drink in their shops or workshops. And in general, if you are an annoying person just stay away.

Inquire about booking and the availability.

Just tell us about your wishes, like the preferred date, with how many friends and family you want to experience the special. It is advisible to have groups of 1-4 persons only.

Let us know

if you will need a transfer to Haiphong. We can offer you discounts on our transfer service. Our crew can also help with your VISA application and VIP Fast Track at the airport.

We will

answer you with detailed informations, date confirmation, availability and a booking reservation if you decide to go with us.
---
Stories that stay with you
Subscribe to our newsletter if you would like to know more about this beautiful country.